Today I'm linking up with Simple Moments Stick & A Harvest of Blessing for: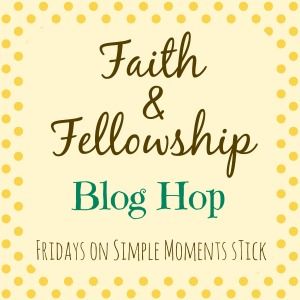 So, over the past few months, I've really realized that I need Jesus. I know that sounds cheesy. I get it. But I think that we go throughout life thinking we've got it under control. we think "oh, i got this now. thanks, god. you can go help someone else now." I'll be honest... I've thought this. and I don't have things under control at all.
I am freaking out about my future and what it holds for me. There are somethings going on that I never expected to ever happen and I don't know what that means for my future. Every day is a battle for me. I've been in tears more in the past few months than I have in years!!
I need Jesus the most "in the moment," ya know? hindsight is always 20/20. but in the moment, when I'm freaking out about a situation, someone ticks me off, irritates me, or hurts my feelings, I really NEED him. I need to hear his calming voice, remember his scriptures, & meditate on his goodness and love.

I am learning to trust him more and more and stop relying on my crazy, over emotional & over analyzing self too much. I mean, he is the one who created me for a specific purpose. He is the one who sent his son to die on a cross so I could have a perfect-as-human-can-get relationship with him and so that my sin wouldn't separate us anymore. Who else can I trust more to meet my needs?